NEW JERSEY CROWN MOLDING INSTALLATION
Improve Your Home with Our Crown Molding Installation Services
If you're looking to add both value and style to your home, consider installing crown molding or wainscoting panels. This small touch can make a world of difference in any room in your dream home. Regardless of whether you are considering a traditional colonial style or something more modern, crown molding can help you achieve your ideal style.
CROWN MOLDING AND WAINSCOTING INSTALLATION
Depending on the look you want to achieve for your dream home, there are many different types of crown molding installations to choose from. Elevated Contracting LLC, can install all types of crown molding, including:
Wood
Flexible
Polyurethane
Metal
Composite
MDF
Vinyl
Polystyrene
PROFESSIONAL CROWN MOLDING INSTALLATION IN NORTHERN NEW JERSEY
CROWN MOLDING INSTALLATION NEW JERSEY TESTIMONIALS
"Used EC of Bloomingdale for a kitchen remodel and cannot speak highly enough about them! The team was extremely professional and made, what otherwise would have been a stressful process, a total breeze! Great communicators, we're always on time, and do exceptional work!"
⭐️⭐️⭐️⭐️⭐️ | 5-Stars
"I hired Elevated Contracting to remodel my kitchen and I definitely made the right choice. Joe and his team were professional, punctual, answered all of my questions and finished the job within the timeframe promised. They were a pleasure to work with and I would not hesitate to recommend them to family and friends."
⭐️⭐️⭐️⭐️⭐️ | 5-Stars
"The crew was on time and professional. The price was affordable. They installed my IKEA kitchen and it looks great!!"
⭐️⭐️⭐️⭐️⭐️ | 5-Stars
BLOOMINGDALE, NEW JERSEY
CROWN MOLDING INSTALLATION
At Elevated Contracting, our team offers beautifully designed and custom crown molding and wainscoting installations in the New Jersey and New York areas.  Since our expert team has 20+ of experience installing high-quality crown molding, we encourage you to contact us.  We can ensure it is installed properly and your home looks beautiful as a result. In addition to crown molding installation, our team also specializes in kitchen cabinet installation, sink installation, window blind installation and much more!
If you're in the Bloomingdale, New Jersey area and need crown molding or wainscoting installed, contact our team at Elevated Contracting LLC today. Whether you need new crown molding installed or your current crown molding replaced, we have a solution for you. Call us today at (973)-337-3967 or email us at [email protected] so we can be of service and install your crown molding.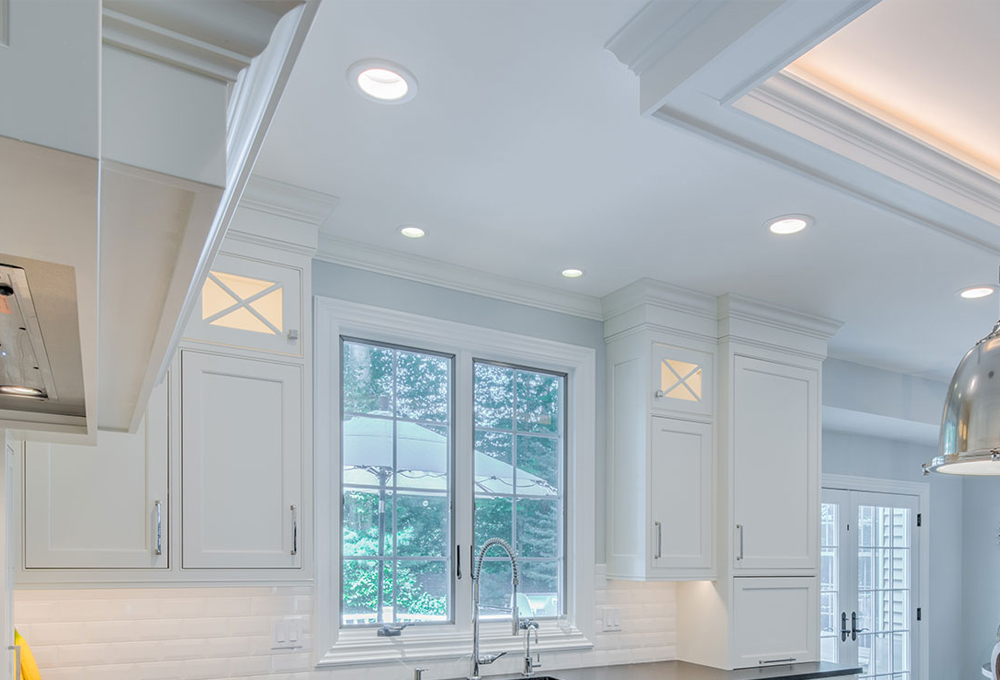 WHY CHOOSE ELEVATED CONTRACTING FOR
YOUR CROWN MOLDING INSTALLATION?
If you're thinking of adding crown molding or any other unique decor features to your home our team of experts can help.  Whether you're trying to create a traditional or a more modern style in your home, we will work with you to achieve your goals.
Elevated Contracting is a family run business serving Northern New Jersey with over 20 years of experience in fine carpentry and kitchen cabinet installations. We understand that remodeling your kitchen is an important decision, and we strive to ensure your project is completed on schedule and with top-notch quality.
Our team of expert contractors handle every project with top-quality professionalism so we can make achieving your dream kitchen a pleasant and transformative experience.
REQUEST YOUR FREE CROWN
MOLDING INSTALLATION QUOTE TODAY
Let Us Create Your Dream Kitchen Today!